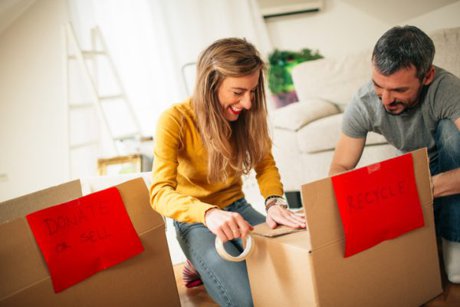 Whether you are upgrading or downsizing, the decision to move from the place you have been acclimated to for months or even years brings with it mixed emotions, ranging from excitement to discomfort. Regardless, it is a stressful time.
In fact, moving is the third most stressful time in a person's life behind death and divorce. Making the decision to hire a mover versus doing it yourself can add on to this. In order to help make the decision easier, we have compiled 5 common misunderstandings about moving companies and the process of hiring a Gainesville mover. They are way too expensive.
Let's hypothetically say you are going to take advantage of that $29 rental truck special in order to save money on your move. Sure the truck itself might cost $29 per day, but how many days is it going to take you to perform the entire move? Also, did you see the fine print about the mileage charge? This varies depending on the day of the week your rental falls on. What about the cost of the actual fuel? Of course you can't forget to rent the moving pads to protect your furniture, of which we recommend a dozen for every 5 feet of truck space. And what about the dollies, tools for assembly and reassembly, stretch wrap, and finally the labor. Even if you convince friends and family to help, they will likely be expecting something in return. All in all, the time and hassle involved in doing it yourself may make sense for small moves up to one bedroom, but for anything larger, the costs and value of your time will often add up to be more than the moving company will charge.
They will break everything
Professional moving companies like 2 College Brothers do this every day. They have the materials, equipment, tools and training to mitigate risk as much as possible. Unless you have worked for a moving company in the past, chances are you don't know many of the common mistakes that are easily avoidable that cause damage. And, in the event of an accident, moving companies are insured and held to legal standards to rectify the situation.
You will deal with rough-and-tumble bumbling bubbas
We've all seen the movies, and yes historically moving companies and the movers involved have a bad rap when it comes to the caliber of individual they hire. Fortunately, Gainesville has a very competitive moving market and with it being a college town, companies like 2 College Brothers are able to higher some of the best and brightest individuals in the state!
The process is too complicated
It only takes about a 10 minute phone call and answering some basic questions about your move to get a reservation booked. Most local moving companies offer simple hourly pricing and complimentary in home consultations to guide you through the process. We are the experts, so you don't have to be.
Blog Contributor:
Wade Swikle, President
2 College Brothers Moving & Storage
605 NW 53rd Ave. Ste. A13
Gainesville, FL 32609
Call: 855-MOVE-BRO
Visit: www.2collegebrothers.com